About MCH Chiropractic and Nutrition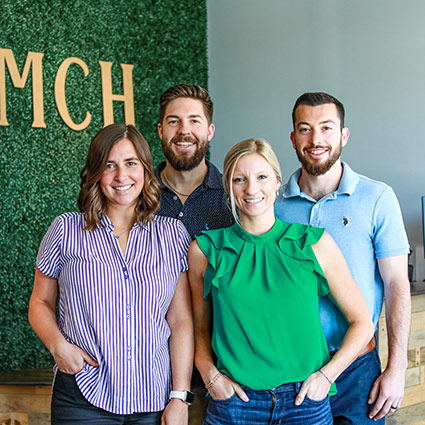 Our trio of doctors, Dr. Trenton McDaniel, D.C., MS, Dr. Paola A. Vinas Joy, D.C., and Dr. Cody Van Natter, D.C., met at chiropractic school and shared the same vision for their practice. So it was only natural that they decided to open a practice together in 2021 to serve the Stallings and Matthews communities.
At MCH Chiropractic and Nutrition, we're more than just pain doctors. Our focus is on the full nervous system, not symptoms. We'll take care of your pain, of course, but we look deeper to find the root cause to prevent it from coming back.
Our Purpose
At MCH Chiropractic and Nutrition, we're more than chiropractors—we're advocates for a life well-lived. We believe miracles can (and do) happen, and we've made it our life's work to do our part to see as many as possible.
Standing Out From the Crowd
We are the only office with three doctors, sharing practice members, that does Pierce Results System in the area. We're also the only one that does motion study X-rays, as well as taking thermography scans pre- & post adjustments. We keep working for you until you get the results you need.
Our doctors are highly trained and skilled in pediatric and pregnancy chiropractic. Working alongside nutrition consultant and registered dietician, Madison Van Natter, MS, RD, CSCS. While offering a bilingual option as Dr. P is fluent in Spanish.
At the Practice
We offer an energetic and vibrant space where healing can occur. Our members enjoy coming in, chatting, and sometimes running into a familiar face. On occasion children even cry because they have so much fun and want to stay. Our team cares for practice members as though they are family and it shows in everything we do.
Getting Results
We have seen awesome results in our practice. One little boy came in with a history of constant seizures. Since he started care eight months ago, he hasn't had a single one, which is the longest he's gone since birth. Talk about life-changing!
Another person came to us complaining of no feeling in the bottom of his feet for 10-15 years. After just one cervical adjustment, he came back to tell us he could now feel the bottom of his feet.
Ready to Book?
Our doctors want to help you get the results you want and need. Contact us today to book your visit.
---
About MCH Chiropractic and Nutrition | (704) 727-6131