Meet the Team at MCH Chiropractic and Nutrition
Get to Know Us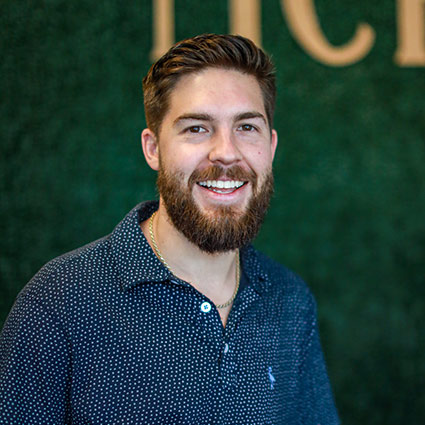 Dr. Trenton McDaniel, D.C., MS, Chiropractor
Dr. Trent was born and raised in the small town of Sneads, Florida. He has always been a sports fanatic and when he is not at work you can find him staying fit by playing all kinds of different sports like pickle ball, flag football and spike ball to name a few. His passion for sports pushed him to learn about proper functionality of the body, and this led him to choose chiropractic as his profession. He has dedicated his life, allowing athletes to train and perform optimally and weekend warriors to continue doing what they love. Dr. Trent's passion does not stop there, because his wish is to see every single person have the best life possible through targeted chiropractic care.
Dr. Trent graduated from the University of West Florida with a B.S. in Exercise Science. Go Argos! After receiving his degree, he was uncertain of where life would take him next. Later he learned about the sole healing power that the body contained. From there, Dr. Trent sought a Doctor of chiropractic and M.S. in Exercise Science at Life University.
Attending numerous seminars has been instrumental in finding the cutting edge of chiropractic care. The most significant being the study of the Pierce Results System. Over the past 6 years Dr. Trent has performed this technique with great success and amazing results! The proof of that success is the patients who walk out differently than when they started their journey here. That is the "Why" to what drives him to continue going to seminars and conferences.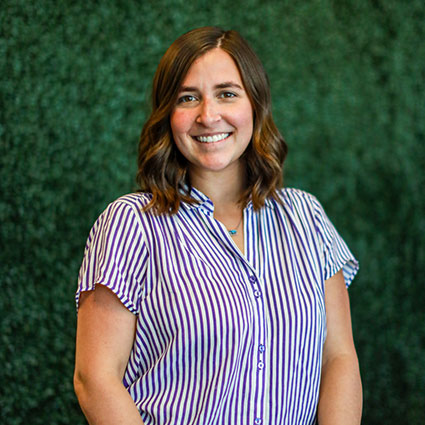 Dr. Paola A. Vinas Joy, D.C., Chiropractor
Dr. Paola, or as she is affectionately known around here as Dr. P was born and raised on the beautiful island of Puerto Rico which means she is fully bilingual! She loves playing volleyball, tanning at the beach and watching movies with her husband and best friend Dr. Trent.
She graduated from the University of Puerto Rico with a major in interdisciplinary science. After graduating she decided to move to Atlanta to pursue her studies at Life University to become a chiropractor. She has always been intrigued by the body's ability to heal itself and so chiropractic was a natural fit.
Dr. Paola is our
pediatric
and
prenatal chiropractor
. She has always been passionate about kids and pregnant moms. Even her family calls her the baby whisperer. Ever since she was a little girl, she was determined that whatever profession she pursued had to involve kids. While in school she discovered how important chiropractic care is during pregnancy, as well as for the future development of the kids. She also knew that it was equally important to care for their moms during the pregnancy process.
She furthered her education and is certified in the Webster Technique. She also attended multiple seminars with the International Chiropractic Pediatric Association. Not stopping there, she studied under Dr. Melillo who is the creator of Brain Balance. This has given her the skills to help children who have neurodevelopmental disorders such as: ADHD, ASD, OCD and Dyslexia.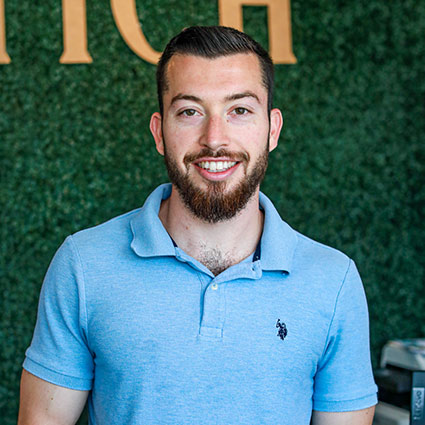 Dr. Cody Van Natter, D.C., Chiropractor
Dr. Cody was born and raised in the town of Spring Hill, Florida. Growing up sports was always a huge part of his life. He carried his love for running to college where he ran cross country and track for 4 years and qualified for the National Championship multiple times. The human body always intrigued him, so while in school he was a Personal Trainer which led him to become a group exercise trainer.
During his senior year of high school Dr. Cody was in a severe car accident which prevented him from playing any sports. He then sought several medical professionals but had no relief and no answers. This left him feeling a little hopeless until he went to a chiropractor. Not only did this give him his hope back, BUT he was able to return to sports! He has made it his mission to give other people the life-changing experience chiropractic gave him. He was able to return to what he loved so much, which essentially changed the course of his life.
Dr. Cody graduated from Florida Southern College where he obtained a B.S. in Exercise Science with a minor in Biology. He then went on to continue his education at Life University where is received his Doctorate of Chiropractic and the honorary Pierce Club President's Award.
Dr. Cody's passion to help others has led him on the path of attending multiple seminars and shadowing some of the top chiropractors in the world!! He believes you shouldn't wait until a big trauma to see a chiropractor. This led him to his love of seeing babies and pregnant moms. On top of that, the ones who unfortunately go through a life changing trauma. These steps have shaped him into the chiropractic doctor he is today. He mainly focuses on utilizing the Pierce Results System where he has been certified since 2018.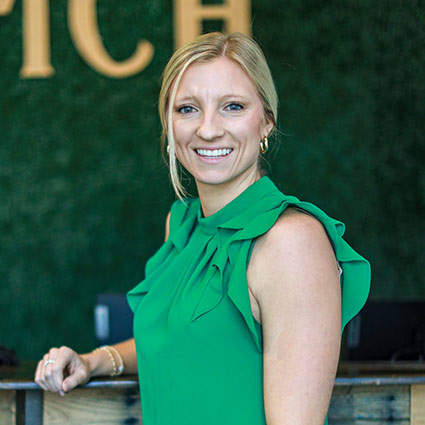 Madison Van Natter, MS, RD, CSCS, Dietitian
Madi was born and raised in Matthews, North Carolina. She is a major foodie and loves to create her own homemade recipes. Additionally, she loves any outdoor activity from biking, tossing the frisbee, long walks with her husband and spike ball thanks to Dr. Trent and Dr. P.
She graduated with a B.S. in Exercise Science from Florida Southern College where she swam for the Lady Mocs. During her freshman year she met her best friend and husband Dr. Cody. While attending FSC she was a Personal Trainer and Nutrition Specialist. After graduation, she went on to obtain an M.S. in Human Nutrition from Winthrop University and completed her dietetic internship at Life University.
Madi works one-on-one with clients in person or virtually using a root-cause approach with functional nutrition and labs. She focuses on abundance over restriction when it comes to food and creating recommendations that are custom-made for each individual's unique needs. Her specialties are thyroid disorders, hormone imbalance, PCOS, endometriosis, infertility, and those who suffer from bloating, constipation or diarrhea, IBS, and more.
---
Meet the Team at MCH Chiropractic and Nutrition | (704) 727-6131